Masakazu Yoshizawa

Listening to the Wood

Some cultures and governments go to great trouble and expense to preserve traditional skills, knowledge, and values, even as the overall society embraces the most advanced technology. The designation by the Japanese government of individual practitioners of traditional art forms as National Treasures is the best known program of this sort. As personifications of an official position about what constitutes tradition and mastery, these artists contribute to a national identity and represent the pride and values of the society. The implied aesthetic contract is also a social and philosophical contract about the conduct of a correct life.

Masakazu Yoshizawa learned his art in Japan and bring some of this same perspective to his work. Yoshizawa creates spaces (figuratively, in that music creates an emotional environment) by listening to nature; bending notes, wood, and temperament into harmony with what he hears.

From California Artists: At the Crossroads
(John Bishop, California Arts Council, 1991).
The tea garden of the Japanese American Cultural and Community Center in downtown Los Angeles is ringed by modern structures of glass and concrete, an island of serenity within the city and a metaphor for the ordered emotional space that music creates. Masakazu Yoshizawa's music evokes reflection and peace from the turmoil of modern life the way the tea garden gives contemplative refuge from the tumult of the urban physical world.
"Growing up in Japan, you always hear Japanese traditional music and you always expect it to be there." Masa played shakuhachi and yokobue when he was very young, but as an adolescent he was caught up by the big sound of Western music and shifted his attention to saxophone and clarinet. He is trained in Western classical music and plays in a symphony orchestra. One day he was asked to play the shakuhachi for a job, and it rekindled his interest in traditional music.
"Performing is crucial to a musician's development. Practice gives you technical confidence, but musical insight comes while you are playing. You will never grow artistically if you only watch and imitate, and never learn to think for yourself. You can copy technique, but a master can't teach you how the inside should sound.

"The shakuhachi is a solo instrument, but being the only instrumentalist doesn't mean you can do anything you want, you always have to listen to nature and space. All musicians, East or West, do this, though they may not articulate it. Zen books write about it, so it is in the vocabulary of Japanese musicians to talk about it.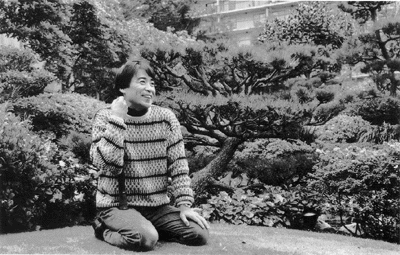 "You don't call yourself a master, other people decide that."
---
Return to the Home Page